QB Issue Resolution:
When installing QuickBooks, the Next button is not visible in the installation screens. This may also occur when installing a manual webpatch file where the Continue or Cancel buttons are not visible.
Why this is happening
This issue is often caused by screen resolution settings that are set too low. The minimum screen resolution that is required by QuickBooks is 1024 by 768 pixels.
This may also be caused by magnification settings or DPI Settings.
How to fix it
Intuit recommends more than one solution for this problem. The first solution may solve your problem, or you may need to try all of them to resolve the issue. For best results, perform the solutions in the order shown.
Solution 1 : Edit the screen resolution settings on your computer
Estimated time: 5 minutes
Windows 7/Vista:
Right-click your computer's Desktop and select Screen Resolution.
Locate the Resolution drop-down menu and select a resolution that is 1024 x 768 or higher:

Click the OK button and try installing QuickBooks again.
Solution 2: Check magnification settings
Estimated time: 5 minutes
Right-click your Desktop
Select Personalize
Click Display
Change to 100%
Solution 3: DPI settings on fonts are set too high
Win7/ Vista
Right click on an empty area of your desktop and click on Screen Resolution.
Click on the Make text and other items larger or smaller link
.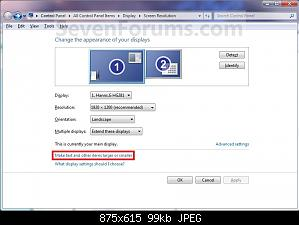 You will now see this screen.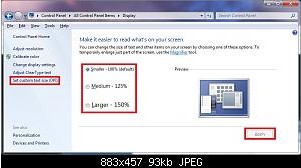 To Select a DPI Size –

Select a size that you want for the Display DPI size. (See the screenshot above.)

Smaller – 100% = 96 DPI (Pixels/Dots Per Inch)